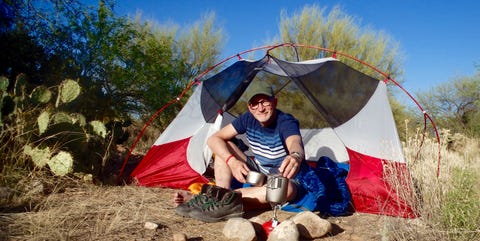 Trekking across the Sonoran—or any desert—takes planning. Here's what you'll need to tackle the Arizona Trail, or wherever your adventure might take you.
Danner Men's Light Hiking Boot
A foot race with the classic Mountain Light, but this model triumphs thanks to a smart mix of premium leather and 1000 denier nylon. The taller boot combats scree, cacti, and snakes while the Gore-Tex lining makes it a four-season value wherever you live. Triple lacing lugs up top mean total adjustability through a long day on any rugged trail.
Easy to carry with room aplenty, Versant ranks among the most comfortable belt-and-strap systems tested. Generous rain protection doubles up to guard against unavoidable dust and debris. Sizing is quickly adjusted and the frame system is competent despite its light weight. The top lid converts to a daypack for more urban pursuits or side trips.

MSR Hubba Hubba NX 2 Person Tent


You'll love this tent's options for lighter carry in desert conditions. Strip it down in better weather, load it up to provide insurance against wind, rain, and persistent critters. With dual entrances and plenty of shelter from the fly, Hubba Hubba performs across a wide range conditions.
Klymit KSB 35 Degree Down Sleeping Bag


From cool desert floor to the windswept side of rugged mountains, this model strikes the balance between warmth, weight, and value. Klymit understands comfort (as with the Insulated V Ultralite SL Sleeping Pad), taking out weight without compromising KSB's zipper operation, reasonable foot box volume and compressibility. Don't let the brand's unfamiliar name in sleeping bags slow you down.

Snow Peak LiteMax Titanium Stove
This Japanese brand is a must-have for simple, functional elegance on trail or terrace. At 1.9oz, water boils in four minutes using commonly-available fuel canisters as it pumps out over 11,000 BTUs. Flame adjustment is smooth, while combining LiteMax with the Titanium Mini Solo Cookset slashes weight and space requirements. Buy it for a single trip, then cook with LiteMax for a lifetime.

The Muncher Titanium Multi-Utensil
Titanium wins the day, and this utensil can replace most pocket tools on a desert sojourn. Beyond the spork, a serrated knife, cord cutter, peeler and pry bar handle daily challenges. A ferrocerium flint rod tucks in after igniting your stove as the carry pouch shields against campsite crud. Call it a new classic, and buy a second for your trail companion.

Alpine Aire Forever Young Mac & Cheese
No-brainer for the best use of two cups of (precious) water. Vegetarian with heft, added peas, carrots, and corn make for a total ration. Testers discovered the brand through their Classic Guacamole and Spicy Southwest Hummus, starters that take no cooking to make the best trail-side light lunch in the Sonoran.



If your desert trip is simply an overnighter, this is the cooking path of least resistance. Mustering battery and heating power to churn through several cycles, Cauldryn replaces stove, fuel, and even cooking container. On the pricy side, it has plenty of civilian uses back home for coffee, tea, and even chilled beverages, but handle with care since it's not a "backcountry" product.

Fjallraven High Coast Wind Jacket
This is the jacket to conquer the contrasts of warm and cold, overcast and clear skies. Plowing through spring and fall drizzle while guarding against extreme sun exposure, High Coast is a top choice for moderate desert travel. Great fitting, it tucks under backpack straps and belts without binding while still allowing chest pocket access. Pair with the brand's High Coast Trousers and Abisko Shorts to own the day.

Ridge Merino Inversion Crew
Wool, in the desert? Always and absolutely when the label says "Ridge." This flat-locked, raglan sleeve 190g fabric crew is ideal for non-scorching days and the chilly nights destined to find you in the desert. The brand proved its worth on a recent trip to snowy Japan that brought non-stink comfort back to Arizona ready for more. Styling equals everyday wear in a trim, collegiate look.

Balega Blister Resist Crew Socks
Up, down, and all around, testers vote with their feet for Balega. This wily combination of Mohair and synthetics is among the most durable, comfortable styles we've tried around the world. Capable in hot weather and competent in colder conditions, Blister Resist is worth the money you won't have to spend anytime soon on replacements—or the pain of taping up hot spots other brands can't avoid.
Desert, ocean, urban and backcountry. This system turns an iPhone into a drama-seeking machine. Pocket-sized and surprisingly durable, there are options for most phone models but this combination makes for optimum on-camera attachment. Experiment around the house, then go wide on desert vistas and close up on amazing cactus blossoms.
Rehearse your best Dark Sky moves with this app with purpose-built smartphone holder. Plenty of choices let you dial in the season with the ability to study what's above at home first. While tricky to orient and slightly clumsy to wear, it is a worthwhile method of prepping for one of the greatest celestial environments you'll ever experience.
Some gadgets deserve a place in the world. Power Practical extends their innovative streak with this intriguing combo, turning a flashlight body into a flameless plasma lighter. Along with a camp lantern at 400 lumens. Desert or not, this one earns the respect of hikers and couch surfers alike thanks to reliable circuitry inside a rugged, futuristic package.