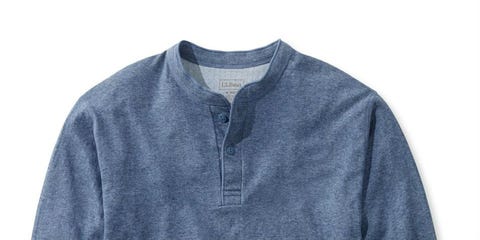 Working outside in the winter is different than playing outside. When you're playing and you get cold and uncomfortable, you can call it quits. With work, though, you have to keep at it until you're done. For winter workwear, a long-sleeve undershirt is a must. People have started calling this a base layer. When I hear "base layer," I think of tar paper over sheathing, but that's another story.
In terms of fabric, there's new wicking synthetic fabrics made from nylon, polyester and polypropylene, wool, and old-fashioned cotton. In terms of construction, you've got choices—whether the shirt opens with buttons or a zipper, has a chest pocket or a plain chest. And ask yourself whether you intend to wear it without a shirt sometimes or will wear a T-shirt under it or over it.
For me, there's no clear answer. I haven't seen one long undershirt that's ideal for all work conditions, weather, and budgets. I've had mixed results with synthetics and so-called wicking synthetics. They are warm for something so thin and they wick, mostly, but sometimes have static cling in dry weather and they stink. My wicking synthetics require careful laundering followed by a sniff test. You'll have to decide for yourself.
Aside from a few experimental synthetics, the bulk of my long-sleeve undershirts are cotton, wool, or some blend of the two. So with all this in mind, here are my favorite undershirts to keep you warm all winter.
Dickies Long-Sleeve Heavyweight Crew Neck
If you need a pocket on your shirt, this Dickies shirt will do nicely.
Pro Club Heavyweight Cotton Long-Sleeve Crew Neck
An advantage of this cotton crew is that the rib-knit neck is Lycra reinforced to reduce its likelihood from being stretched out of shape.
Duofold Midweight Thermal Crew
I've owned Dufold underwear for decades, and although I haven't owned this specific shirt, the company's workmanship is outstanding as is the durability of its garments. This is a 60 percent cotton, 40 percent polyester blend for both warmth and ease of laundering.
If you wore these in the service and liked them, military-specification long undershirts are easy to find and inexpensive. Plus, it's hard to beat their durability because their construction is polypropylene fabric.
Tesla Thermal Wintergear Compression Base Layer
Tesla shirts are 87 percent polyester and 13 percent Spandex (a highly elastic polyurethane fiber). They are very thin, are formfitting, and allow shirts of all types to slide over them easily. They're also inexpensive.
Duluth Trading Buck Naked Performance Base Layer
Duluth Trading's shirt is an all-synthetic blend with thumbhole cuffs that keep the arms moving with you and prevent bunching.
L.L. Bean River Driver Henley
Henleys are two- or three-button garments that can be worn under a shirt or as the shirt itself. Open the buttons for ventilation and close them when the wind kicks up.
These L.L. Bean shirts are expensive; on the other hand, I've been wearing them for decades and have never seen anything like their durability. They are cotton on the inside, wool-cotton-synthetic on the outside.
Wrangler Authentics Long-Sleeve Waffle Henley
Wrangler's all-cotton Henley is a less-expensive alternative, but still looks to be very substantially made.
Therma Tek Cotton Waffle Knit Thermal Long John Underwear
Waffle-knit bottoms and tops have been around for a while, and they're hard to beat when it comes to simple warmth and durability, though they add slightly to bulk. They come in three weights: light, medium, and heavy, and this one from Therma Tek is our favorite of the light variety.

Fruit of the Loom Classics Midweight Waffle Thermal Underwear Crew Top (1 & 2 Packs), Natural, Large
Not too light, but not too heavy. This Midweight cotton-polyester blend shirt is a classic from Fruit of the Loom—and it's a great price.
Enkalda Heavyweight Thermal
If you need something more heavyweight, this all-cotton undershirt from Enkalda should do the trick.
Carhartt Midweight Cotton Union Suit
Yeah, they're an acquired taste, but there's no shirt to become untucked. When the going get's really tough—and cold—I'm glad I have them. This one from Carhartt is an all-cotton, nine-button version of the Union Suit.
Duofold Mid Weight Thermal Union Suit
The Duofold ten-button is the last word in this rugged, traditional garment. It's incredibly durable and warm, thanks to immaculate workmanship and an all-cotton interior and wool-cotton-nylon exterior.
Hanes Waffle Knit Thermal Union Suit
Hanes's eight-button version is the least expensive of the three and is a cotton-polyester blend waffle knit. It looks to be a good garment for the money.