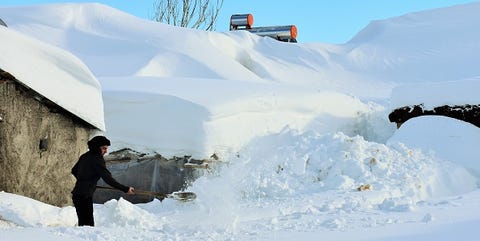 When the big storm hits, or when a few of them hit in the same season, you should be prepared. You might have to go dig out the driveway, walk to the corner store, or just hunker down and stay warm. Thankfully, there is plenty of great gear out there to make you a warrior against the biggest, fluffiest precipitation Mother Nature has to throw at you.
Keep your traction on slippery snow and ice with these over-the-boot crampons. The tough rubber-and-chain design will handle the cold and any abuse. The long spikes on the bottom grip the ground, snow, or ice to keep you upright. Be sure to take them off before you go inside and ruin those hardwood floors, though.
Hillsound Armadillo LT Gaiter
If you have eight-inch boots and 12 inches of snow, that's a recipe for cold, wet feet. But with a nice set of waterproof gators like the Armadillos, you'll keep all the snow outta your boots. They're great for cold-weather hiking or just shoveling the driveway.
$229.00
$114.98 (50% off)
Cover more of your face and keep the snow out of your eyes while you brave the outdoors. You don't need to be shooting down a mountain to benefit from glasses. You'll be glad you have them when the wind picks up a "wintry mix" and tries to blast it to the back of your corneas. They're also anti-fog and polarized.
SmartWool NTS Mid 250 Crew
This thick merino wool base layer will keep you warm as can be. Seams are off the shoulder, so if you carry your backpack to the grocery story, you won't chafe the top of your shoulder after filling the bag with enough cans to survive the apocalypse. This base layer is seriously warm, and the merino will avoid picking up smells if you don't have power to run your washing machine for a few days.
Carhartt Arctic Quilt Lined Yukon Coveralls
Cover your entire body with Carhartt's quilt-lined cordura nylon coveralls. Wind can't sneak in between your jacket and pants if there is no gap between your jacket and pants. You'll be able to power through anything in this suit. And if you choose to wear your pajamas under them, who will know? You'll be seriously warm, and if you get too warm, you can always unzip the underarm vents to let a bit of that cold back in.
Otterbox Elevation 20 Tumbler
Keep that hot coffee hot while you work outside or curl up on the couch. Easy flip-up lid means you can open up to sip with a gloved hand, but still close enough to let that double-wall insulation work to keep your hot drink hot.
Now this is a serious boot. Originally designed for hunting, it'll keep you dry and warm no matter what you run into—puddles, snow, mud, slush, you name it. High tops keep the snow out and more of your leg warm. Rubber over neoprene means a tough design built to last, and 1600G Thinsulate insulation means real warmth.
Outdoor Research BitterBlaze Gloves
These gloves use NASA-Inspired Aerogel to keep you warm. That's right—space gloves. So a few inches of snow aren't going to be a big problem compared to the vacuum of space. The Aerogel resists compression, which limits insulating capability. With goat-leather palms, Gore-Tex waterproof finish, and micro-fleece insulation, what more could you want?
The secret to surviving winter, never more so than during a storm, is a good pair of slippers. Glerups are the best. Obscenely warm and comfortable with felted wool that resists smell, even if you opt to not wear socks. So when you decide to stay inside, decide to be comfortable.
While you're inside, make yourself a drink to heat up from the inside. Try ; we love the spicy sweetness of this bourbon. Try it on the rocks, or if you're tired of ice, then just do it up neat.