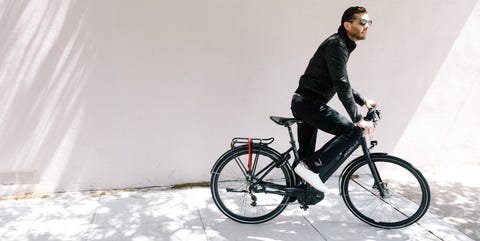 The world of electronic bikes has evolved, turning into a grown-up industry with its own niches and accessibility points. Whether city cruising, cargo hauling, or mountain biking, e-bikes are a major part of a world that is slowly creating bike-friendly infrastructure.
We've rounded up seven current examples of what e-bikes can be.
The 2018 model at $2,800 offers a cruiser e-bike with multiple color choices for the stylish-conscious. From a Bosch battery that can stretch to 100 miles depending on terrain and hydraulic disc brakes with easy-pull levers right down to the stitched grips, alloy fenders, and cruiser design, the Electra model creates a unique look on e-bike roads.

Simplicity powers the Gtech model, available in either a 20-inch "sports" crossbar frame or a 17-inch "city" step-through option. From using a carbon belt drive to a gearless system that allows a computer to adjust speed while pedaling, not only has Gtech streamlined the e-bike process, but they've also dropped the price to just north of $1,000. At a range of about 30 miles, this 35-pound bike offers a humble introduction to e-bikes.
Riese & Muller Nevo Nuvinci HS
On the other end of the pricing spectrum (although not as high-end as possible) falls the Riese & Muller lines. The Nevo line, which features a Bosch motor, hydraulic disc brakes and speeds up to 28 mph also has a roughly $5,000 sticker (a variety of models allows for a cheaper price). Using a carbon belt and Nuvinci grip shifter, maintenance worries lessen. The German-made premium models are hand made to specifications and comfort reigns supreme.
Certainly not for the entry-level e-bike buyer, those who need to strap cargo to their back now have a new option with the Riese & Muller Load option, with full cargo space on the front of the bike. While over $6,000, the full-suspension bike has adjustability to allow for differing loads. Safety features include LED headlights and premium components abound.
The dual-battery power extends the range on the cargo models to over 40 miles. The bike's storage area can also work to hold the most precious of cargo: kids.

Designed for the same maneuverability as a non-electric bike, this roughly $3,000 model designed for the city can handle hills and distance. Using a Bosch motor for 100-mile cycling on flat or hilly terrain and a lightweight aluminum frame, the Dutch-made Gazelle model aims for a "sporty posture" and "precise cycling performance" in a robust offering.
Known for not only their powerful line of mountain bikes and specialty bikes—cruisers to fat—Bulls also has a versatile line of urban models. The Cross E Wave comes as one of their more affordable options at roughly $2,800, but at 20 mph can still range for up to 134 in optimal conditions with everything you'd expect (fenders, lock, lights and adjustability). The entire family of Bulls e-bikes has specifications built for any scenario.

Sometimes space comes at the most premium of commodities and the Tern Vektron offers a space-saving folding option. At about $3,400, the sturdy folding joints include a magnet and rubber strap to keep the bike folded. The quick-release pedals (wheels release too) help with storage of a bike that doesn't give up power with a 20-mph speed that can range over 60 miles. But the best part is placing two in the trunk of a car.