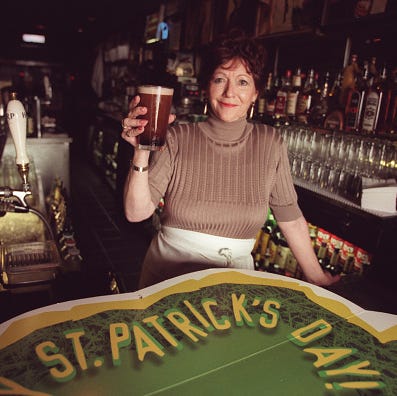 Stout was originally used to designate a particularly strong beer. But toward the end of the 18th century, particularly in Ireland, darker beers rose in popularity amongst a sea of ales, and stout became its own breed of smooth, dark, and creamy brew.
As Guinness began shipping stout out of its St. James Gate brewery, the style rose in popularity and prevalence beyond the pubs of Dublin. So, whether you're celebrating your Irish heritage, pretending you have some, or just looking forward to a good beer, pour one of these stouts on March 17.
We have to start with the most famous, and prevalent in Irish bars the world over. Guinness is famous for its creamy head and the way the beer's bubbles, smaller and smoother thanks to nitrogen in tap lines and can widgets rather than CO2, rise to the top of a pint. A creamy smooth sweetness with just enough roasted malt bitterness. Surprisingly to some, Guinness Draught is also only 4.2% ABV, which means you won't get knocked on your ass if you decide to have a second.
See where to buy .
A hefty 10.5% ABV packs a punch with this chocolatey, caramely, coffee-y, deliciously dark stout. Don't worry. though, you'll get more than a buzz. Amongst those dark and sweet notes hides 65 IBUs with the smooth but strong malt flavor.
See where to buy .
3
Creature Comforts The Cocoa Dance
If you come across this limited release, get it while you can. The imperial milk stout (yep, this bad boy, like all milk stouts, is brewed with lactose) comes in at 12 % ABV, so buckle up. In with that lactose, which gives a smooth finish, are cocoa nibs and vanilla. You'll get a sweet smooth chocolatey taste that'll have you staring down the challenge of a second can.
Your best bet to find it is the Athens, GA brewery. Check out more .

4
Jackie O's Java the Stout
A caramel-forward stout with strong coffee flavors added by Dawn Chorus' French Roast, a coffee roaster right near the brewery in Athens, OH. Minimal barley and a lot of caramel malts start this beer, which is then cold conditioned on 4 lbs. of course ground coffee for a week. That means not only is this beer 6.5% ABV, it also has the caffeine of half a cup of coffee in every pint. Its a seasonal offering so grab it when you see it.
See where to buy .
5
Left Hand Brewing Milk Stout Nitro
Another nitro stout relying on a widget in the can or bottle to keep those tight smooth bubbles going. A thick soft head tops the beer which will give you chocolate, coffee, milk sweet flavors, sort of like the most delicious fancy coffee beer mashup you could hope for. Smooth, sweet, delightful.
See where to buy .
6
Dogfish Head Wood-Aged Bitches Brew
An intense dark imperial stout with enough complexity to be worthy of a Miles Davis allusion. This is a blend of three stouts aged on oak, along with one African honey beer aged on palo wood. Think licorice, coffee, vanilla, chocolate, a little bitter, and a lot going on. You'll want to sip this guy, especially as it comes in at 9% ABV
See where to buy .
7
Harpoon Irish Cream Stout
What could be better for St. Pat's than a stout combined with a staple of Irish bars, Jameson? This beer was born of an in-house brewing competition known as the Owner's Cup. Notes of chocolate, vanilla, oak and just a bit of rye spice. A great smooth mouth feel and really just the mashup we have all been waiting for, even if we didn't know it. And it's only 8% ABV, which is less aggressive than we would have thought.
See where to buy this seasonal brew .
8
Goose Island Bourbon County Brand Stout
A thick, dark, beast of a stout. Its almost-syrupy smoothness and sweetness makes this a sipper, and one to be enjoyed in moderation. Thats good. because it packs a punch coming in at 14.7-15.2% ABV. Charred oak, vanilla, chocolate, and caramel flavors will all punch you in the mouth. It's a limited release as well.
See where to buy
9
Parish Brewing Co. Reve Coffee Stout
If you want a beer that will drink like cold brew coffee, look no further. You don't need it to be cold or rainy outside like in the hills of Eire—enjoy it on a sunny day after work. The coffee beans Parish adds are from Columbia and Java and only roasted to city/full city, a relatively light roast that'll let you enjoy all of their notes in this smooth 7.2% brew.
See where to buy . Though, for best results, you may have to be in the south.
10
West O Coco Chocolate Stout
This year-round stout was a gold-medal winner at the Great American Beer Festival in both 2014 and 2015 in the sweet or cream stout category, and deservedly so. This cream stout is made with lactose, cocoa nibs, and bourbon vanilla beans. That's a whole lot of sweet, smooth, chocolatey flavor. It packs a rich, dark color, smooth taste, Iowa roots, and 6% ABV.

Check out the brewery .