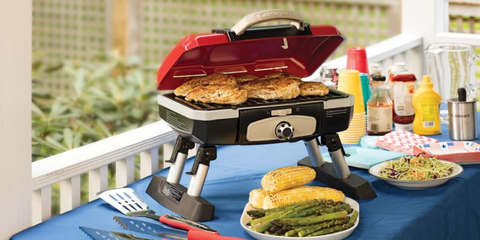 Don't let the size of your outdoor space prevent you from enjoying a grilled steak or veggies. These portable BBQ grills are great for car camping and cookouts but can also work on a small balcony or simply outside your front door.
Weber 10020 Smokey Joe 14-Inch Portable Grill
Amazon |
The popular Weber Smokey Joe is found at tailgates and picnics across the country. And for good reason—it gets hot fast and is just large enough to cook dinner for a small group, but small enough to fit in the trunk of a car.
George Foreman GGR50B Indoor/Outdoor Grill
Amazon |
This electric grill sits atop a 2 1/2-foot pedestal, so there's no need to hunch over a bunch of hot food. The grill temperature can be set from low to high and there's no need to mess with charcoal or propane. The grill slightly slopes, which allows oil and grease to run off the food, and is collected in an easy to clean tray.
Char-Broil Portable Gas Grill
Amazon |
What we've always loved about this grill is how quickly and easily it stores away. The legs fold over the top of the lid to hold it in place, and it can fit neatly in a closet or under a sink. Propane is cleaner than charcoal, and is ready in an instant. But, nothing can replace the charcoal taste.
STOK Gridiron Single Burner Portable Propane Gas Grill
Amazon |
This slim folding gas grill from Stok has a bunch of large grill features, including 348 square inches of grill space, an electric starter, and built-in temperature gauge. It also features the Stok insert system which allows you to switch out the cast-iron grill for inserts such as a pizza stone and veggie trays, which expands the abilities of your grill.
Cuisinart CGG-180T Petit Gourmet Portable Tabletop Gas Grill
Amazon |
This colorful grill features a 5,500 BTU stainless-steel burner and an even-heating porcelain-enameled grate that ensures a premium grilling experience. The grill is small enough to use on any tabletop or deck, and the integrated lid keeps your cooking area less cluttered.
Smoke Hollow 205 Stainless Steel Tabletop Propane Gas Grill
Amazon |
If you like the look of stainless steel that's typically only found in larger grills, then the Smoke Hollow is your grill. The hood locks down for secure transport and the legs fold up for easy storage. When clean, stainless steel looks sharp, but fingerprints can be annoying.