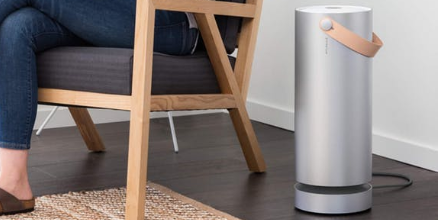 Good indoor air quality is important. In fact, according to the , there is growing evidence that the air inside our homes can be even more polluted than the air outside. Irritants such as bacteria, mold, mildew, viruses, animal dander, radon, pesticides, and more are common in homes, says Steve Newcomer, an HVAC instructor at Harrisburg Area Community College in Pennsylvania. Considering that the average American spends some 90 percent of their daily lives indoors, that could mean breathing a lot of polluted air. What can you do? Get an air purifier. The right one can significantly decrease the number of pollutants in your home—and help you breathe better.

The award-winning Molekule has a HEPA filter, a UV-C lamp, along with a sleek design—it looks like a stainless-steel trash can created by an Apple engineer—that you'll be proud to display in any room. The pre-filter captures larger particles, such as dust and pet hair, and slows down VOCs on their way to the PECO-Filter that will break them down, along with bacteria, viruses, and other pollutants. Although it's pricey, the only other way to get your rooms' air this clean is to install a purifier in your HVAC unit.
Best for Homes with Pets: Bissell air400
Although it's not the quietest model out there, the air400 is ideal for a space up to 400 square feet. It has a pre-filter to catch all that pet hair you try so hard to get rid of before it can get to and clog the HEPA filter. Plus, there's an activated carbon filter to take care of any odors. Like all HEPA machines, the air400 will capture up to 99.997 percent of particles that are 0.3 microns or larger. Expect to spend about $80 a year on a filter change.
Best for the Office: Pure Enrichment PureZone 3-in-1
This unit covers spaces up to 200 square feet, so unless you have a huge corner suite, it should take care of the air in your office. Along with a HEPA filter, it has a UV-C lamp, which attacks the germs your coworkers accidentally bring with them when they stop by, ensuring that you can use those "sick" days any way you want. The compact design allows it to tuck under your desk, and a timer feature will keep you from wondering if you remembered to turn it off before clocking out for the day.
Least Noticeable: Alen BreatheSmart 75i
Its panels come in 14 different colors, from stainless steel to oak to a horrible electric blue. You'll be able to find something to blend in with your décor no matter what it looks like. And it covers a lot of territory, cleansing 1,300 square feet of air with its HEPA filter every 30 minutes. The BreatheSmart is also incredibly quiet, which you can't say about many air purifiers. It comes with a lifetime warranty too.
Best for Flu Season: RxAir Purification System
The RxAir is an air sanitizing system, not an air filtration system. This means that it won't do anything for those skin cells that are floating in most air, but it will kill 99 percent of airborne bacteria and viruses, including the flu, H1N1, pneumonia, MRSA, strep, TB, the common cold, and even the measles, in case you have some non-vaxxer friends.
Best for Bedrooms: Coway 2-in-1 Air Purifier and White Noise Machine
The Conway air purifier uses a three-stage filtration system with a HEPA filter, plus it works as a white noise machine. The fan is quiet and smooth enough to not disturb sleep, and the white noise machine comes programmed with three nature sounds, white noise, and two lullabies, in case you want to use it in a nursery.
Best Budget Option: GermGuardian AC4300BPTCA
It works only on small rooms—up to 150 square feet—but the HEPA filter and UV-C lamp will make sure your air is clean. It also has an antimicrobial agent to inhibit the growth of mold and mildew on the filter itself. BestProducts.com agrees the

Best for Fans of Space-Age Design: Dyson Pure Cool TP04 Purifying Tower Fan
Dyson has improved on their popular air-purfiying tower with the new Pure Cool. It automatically senses and reports air-quality levels on an LCD display or via the Dyson app. It can measure ultrafine particles (PM 2.5), allergens (PM10), volatile organic compounds (VOCs), and nitrogen dioxide (NO2). Sealed HEPA and activated carbon filters capture pollutants and helps reduce dust, pollen, and other allergens.
Best Value: VaVa Air Purifier
The Vava includes a HEPA air filter and is small enough to fit next to your bed or side table without you noticing it. It moves a lot of air, but does so almost silently compared to other purifiers on this list. UV-C light is used by the purifier to destroy even more harmful pollutants.
Best for Humid Areas: GermGuardian 3-in-1 Air Purifier
This air cleaner includes a true HEPA filter, UV-C light to kill germs, and an antimicrobial agent that is added to the filter to inhibit the growth of mold and mildew on the filter itself. This makes it ideal to use in humid and moist conditions.
Best for Small Spaces: Coway AP-1512HH Mighty Air Purifier
$229.99
$179.99 (22% off)
An onboard particle sensor will automatically kick this air purifier into high gear when needed. It uses a four-stage filtration system that is designed to eliminate odors and pollutants. The compact design makes this filter ideal for apartments and small rooms.
Best for Large Spaces: Winix PlasmaWave Air Cleaner
$249.99
$169.99 (32% off)
This unit is designed for medium to large living spaces, kitchens, or bedrooms and features three different filters. The washable AOC (Advanced Odor Control) Carbon Filter, True HEPA filter, and WINIX PlasmaWave technology.
Best for Pets: Hamilton Beach TrueAir Pet Air Purifier
This air purifier is specifically designed to remove pet odor and dander from your home. A pre-filter captures pet hair and large particles, while two zeolite filters target odors and a HEPA filter captures particles as small as 3 microns. It's designed to work vertically or horizontally.
Smallest Purifier: HomeLabs 3 in 1 Ionic Air Purifier
The HomeLabs air purifier is the cheapest on this list, but it delivers the same performance as purifiers costing much more. The compact size covers up to 50 square feet of air, so it is most effective in bathrooms or small rooms.