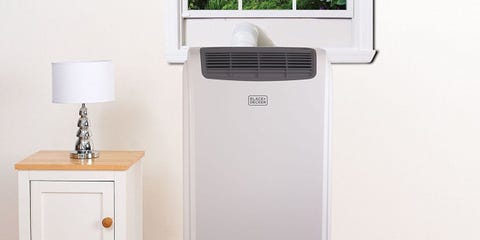 The portable air conditioner is slowly gaining ground on the window air conditioner, and it's easy to see why. For many people, it's a better alternative. It's easier to set up and doesn't require the heavy lifting associated with installing a window-mounted type. These free-standing appliances have caster wheels that allow you to move them easily inside the room or relocate them from one room to another. Once you have it positioned near a window, you take a corrugated hose from the appliance and run that to the window through which it will evacuate warm, stale air to the outside. The hose fits into a sliding plastic panel that fits in the window opening. All that's required is to seal the panel and window with weather stripping and install a bracket that will prevent someone from fully opening the window.
These appliances (like all air conditioners and refrigeration devices) condense moisture vapor out of the air; they may re-vaporize that moisture and vent it out or it may drain the condensate to a pan in the base of the appliance.
How we tested
Our goal was to look for consistent temperature output. We tested our air conditioners on the same day, in the same space for a set period of time with consistent moisture and indoor/outdoor temperature conditions. We set the temperature setting on each air conditioner to 68 degrees, maximum fan speed, and aimed their outlet at a target eight feet away and measured the temperature at four locations on the target.
There were several other metrics that we investigated. We looked at the outlet temperature of each appliance to check for consistent temperature differential during operation. All of the appliances were tested on a hard surface to ensure that rattles would be more obvious, than if these noises were muted by being operated on a carpeted floor. All three of the air conditioners come with a remote, and we tested whether the remote would operate the appliance.
Our findings indicate that the three appliances tested should work well for most residential applications. All three of the air conditioners produce a pleasant white noise and consistent output temperature. The Honeywell and the LG produce significant amounts of condensate; the Black & Decker did not. Only experience will tell you the best method to deal with condensate. If the condensate pan inside the appliance reaches the fill point, it shuts down all of the machines cooling cycle. At that point, you manually drain the appliance. However, you should note that the condensate drain on all three of the appliances is quite low and only the most shallow pan (think of a disposable aluminum pie plate, for example) will fit under the drain outlet. It occurred to us that maybe the best way to operate these machines would be to build a low plywood platform that would allow you to more easily drain condensate.
LG LP1419IVSM portable air conditioner
LG's appliance was the most powerful of the three tested. We set the temperature and fan speed and before we could even return to our notes, it was blowing ice cold air. And the automatic movement of the discharge louvers ensured even temperature distribution at the target. It held its temperature almost as well as the Honeywell. Given those features, the appliance's large BTU number, we think the LG is well suited for large apartments or office areas that might need extra cooling capacity due to digital equipment. In terms of maintenance, the LG was the best of the three, with both filters grills requiring no tools for removal. The top grill is particularly well designed with an easy lift off design.
Modes: Cool, Fan Only, Dehumidify
Cord length: 54 inches
Hose, fully extended: 57 inches
Electrical /BTU: 12 amps, 14,000 BTU
Condensate removed: Ten tablespoons
Honeywell HL09CESWK Portable Air Conditioner
Honeywell
amazon.com
$389.99
Tested
Modes: Cool, Fan Only, Dehumidify, Heat Pump/Heat
Cord length: 73 inches
Hose, fully extended: 59 inches
Electrical /BTU: 8 amps, 9000 BTU
Condensate removed: Ten tablespoons

The Honeywell is a robustly-built and pleasant-sounding appliance. It's amperage and BTU rating puts it in firmly in the mid-power range for these appliances. It should more than hold its own in the average apartment. All of the air conditioners produced an accurate and stable temperature during our tests, but the Honeywell was exceptional, holding the target temperature within one degree or less. As far as maintenance goes, access to all its air filters is very good. The top filter grill has tool-free access. The lower grill is held with a single pan head sheet metal screw, not an exotic Euro fastener of some kind. If you lose that screw, a trip to the hardware store solves the problem.
Black & Decker BPACT14H Portable Air Conditioner
BLACK + DECKER
amazon.com
$479.99
$355.99 (26% off)
Tested
Cord length: 70 inches
Hose, fully extended: 57 inches
Electrical /BTU: 10.8 amps, 10,000 BTU
Condensate removed: Produced no measurable condensate
The smallest of the three, in terms of its size and capacity, the Black & Decker is most well suited to small-room cooling, perhaps even supplementing a central air system, in a tall condominium or townhouse that has an uncomfortably warm upstairs room. We liked the Black & Decker's air distribution. You manually set the output louver vertical direction to adjust the appliance's throw (HVAC lingo for how far the appliance throws the air) but behind those louvers is an oscillating louver that moves automatically left to right. The result is smooth, clean cold air softly delivered over a broad area. The appliance's maintenance looks pretty easy to us. The owner's manual says that you'll need to drain condensate only under extreme conditions. We found no condensate in our test; we're left to conclude that was an accurate statement. Grill removal was not as simple as the other appliances, but it's still pretty good. The top grill is removed tool free; the side grill is held by two thread-forming screws for plastic. The third filter slides out. Three filters, two screws. That's a pretty good score in our book.

More Great Options to Consider
We recommend these options based on our deep experience reviewing air conditioners, research into the market, testing similar models, and a survey of consumer reviews. Although we haven't tested their performance, they may meet your needs based on their price, design, or features.
Whynter
$600.00
$418.99 (30% off)
Reviewed
Modes: Cool, Fan Only, Dehumidify
Cord length: Not noted
Hose, fully extended: 60 inches
Electrical/BTU: 9 amps, 12,000 BTU
Condensate removed: Not noted
This is one of two appliances we discuss with a dual-hose design. One hose intakes outdoor air, filters, cools and dehumidifies it, and the appliance puts this into the room. The appliance ejects indoor air to the outdoors. The design seems counter intuitive, but Whynter says it is more energy efficient than single-hose appliances in that it prevents the appliance from creating a negative pressure in the cooled space. By maintaining a pressure equilibrium with the outdoors, that's true. When an air conditioner creates a low pressure in a living area, you also start pulling in warm, humid and dirty air from building cavities, the attic, the crawlspace and other undesirable locations. The company says its appliance ejects condensate in the exhaust stream and will not collect condensate, in all but the most humid situations. When liquid condensate builds up in the appliance, you've got two options. You can slip a piece of tubing over the top drain port for continuous draining or drain the appliance from the lower port when the condensate tank is full.
Reviewed (not tested)
Modes: Cool, Fan Only, Dehumidify
Cord length: Not noted
Hose, fully extended: 59 inches
Electrical/BTU: amps not noted, 12,000 BTU
Condensate removed: Not noted
Two design attributes of the Frigidaire make it attractive: powerful high-BTU cooling capacity and a cylinder shape that is unlike any other portable air conditioner on the market. And if you like tech, then you should be satisfied with the Frigidaire app that lets you run this appliance remotely using your phone, iPad or tablet. But if your not interested in its tech attributes, its control is simple and intuitive: A large panel on the front with a row of buttons below helps you set modes and fan speed. And a cleanly-designed pancake-shaped remote control nests into the appliance's top. By pancake shape, we mean something like the iconic Honeywell wall thermostat: round and simple. Finally, the fact that it's a Frigidaire appliance better guarantees service in the event you damage the product or a part wears out. That's more than we can say for many appliances in this category which are brands produced by contract manufacturers. When they break, you might as well kick them to the curb.
Hi-Smart Alexa-Enabled Portable A/C
Reviewed (not tested)
This unit from Hisense can be controlled with a remote, your smart phone, and now your voice. Working with both Alexa and Google Assistant, it runs quietly and the cross-flow fan design cools a room quickly. The included window ventilation kit installs easily in horizontal or vertical windows with openings ranging from 18- to 50-in. wide, and cools rooms up to 300 sq. ft.
Whynter
walmart.com
$498.01
This 3-in-1 portable A/C operates as a air-conditioner, fan, and dehumidifier. Its dual hose exhausts and drains all condensate, which allows the unit to perform at its peak. It rolls on casters and can be used in computer/server rooms, bedrooms, classrooms, and garages/workshops.
Best Compact
EvaLIGHT Personal A/C
You don't always need a huge machine to keep you comfortable. If you need something that just adds a bit of cool to the room, office, or gaming space, this little guy from Evapolar is a good pick. Just set this up and expect a nice 3-foot-radius of cool. It won't replace a dedicated A/C, but it'll make any workspace much more comfortable in the dead heat of summer.