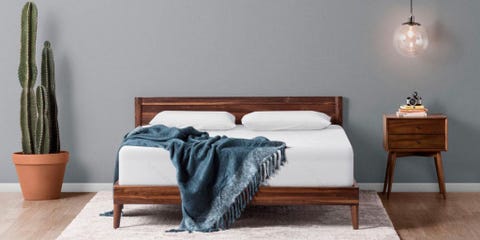 A slew of startup mattress companies have flipped the industry on its head. These bed-in-a-box retailers sell foam-style mattresses online for hundreds less than what you'd pay for a traditional mattress. Most offer a 100-night trial, which is necessary considering many don't have a physical showroom to try the mattress before you buy. The mattress options are also limited, and many of these companies only offer one style of mattress.
$995 queen
Casper was one of the first bed-in-a-box companies to hit the scene. By cutting out the middleman, they proved they could sell a high-quality mattress direct to the consumer at a much lower price.
This made-in-the-USA mattress is available in six sizes. Mattress construction features Casper's four-layer foam construction that contours to your body for support and provides breathability and a little bounce. Open-cell hypoallergenic latex helps maintain a cool temperature throughout the night.
You've got 100 nights to try the mattress and if you don't love it, you can return it for a full refund. You can test a Casper mattress at West Elm stores across the country and soon at Target stores too.
$999 queen
The Purple mattress is one of the newer bed-in-a-box companies, but they've quickly established themselves as a leader in comfort. The Purple bed is made from non-toxic, food-grade material, which means it's VOC- and chemical-free. They've got the standard 100-night guarantee with easy returns, so it's easy to try.
Purple recently introduced a new version of their mattress available in three different comfort levels. They swapped out the foam base layer with support coils for added comfort and motion-isolation. The new mattress will be available soon.
$1,100 queen
Spoon mattress is the only foam mattress that utilizes internal pillars to offer more support. They are placed where the shoulders, back and hips require additional pressure point support. They lose less than 1% of their volume after 100,000 compressions, compared to 10% loss with traditional foam mattresses. They are made in Chicago, IL and offer free shipping and back their product with a 100-night guarantee.
$840 queen
The Leesa mattress features three layers of foam for cooling, comfort, support, and pressure relief. Made in the USA, the Leesa offers free shipping and the same 100-night guarantee as its competitors. Here's a nice bonus: For every ten mattresses sold, Leesa will donate one to a shelter.
$575 queen
Tuft and Needle only uses two layers of foam in its mattress. It's called T&N; adaptive foam, which the company claims will offer better temperature control thanks to the fewer layers of glue connecting each foam layer. This made-in-the-USA product offers a 100-night guarantee and 10-year warranty. In addition to selling online, T&N; also has stores in Phoenix and San Francisco, so if you are nearby one of those towns you can test the bed in person. Based on their stellar Amazon reviews, this should be one of your top choices.
$3,395
Essentia claims to be the world's only natural memory foam, selling the world's healthiest mattresses. Based on viewing , we can see why. But, are they comfortable? With 7 mattress styles to choose from, you are bound to find one that you like the most.
$646 queen
Unlike most foam beds, the GhostBed features a gel memory foam to regulate sleeping temperature. They beat the competition (well, by one day) by offering a 101-night sleep trial with free returns if you aren't satisfied. They've also got a 20-year mattress warranty, which is the best of the bunch.
$995 queen
The Helix mattress is the only mattress listed here that offers a custom personalized mattress based on your sleeping style and preferences. Start by taking a sleep quiz, which even lets you customize your mattress to each side, then place your order and your Helix mattress will be at your door in 6 to 10 days. The waiting time isn't much considering you have a say in how your mattress is constructed. You've got a 100 nights to decide if you like it.
$179 queen
The least expensive mattress listed here is also the most popular on Amazon. It's available in 7 sizes and 4 levels of thickness. The mattress is infused with green tea extract and castor natural seed oil, which serve as a natural defense against odor and bacteria. The mattress is made overseas and they don't offer any type of return policy, but the price can't be beat.
$999 queen
Eight's smart mattress takes the internet of things to the next level. The 4-layer foam mattress is covered with a sleep-tracking sensor layer that reviews your sleep data, tracks body temperature, wakes you up, and has a dual-zone warming feature for an extra cozy bed. It connects to your home's Wi-Fi network and you can analyze and control the sleep tracker from an app. (The sleep tracker can be purchased separately and used on any bed.)