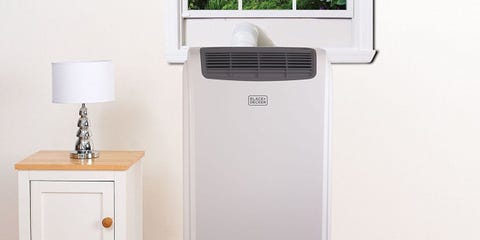 If your home lacks central air conditioning, you don't have to settle for using fans or window-mounted ACs to keep you cool. These portable air-conditioners can be placed virtually anywhere in your home and moved from room to room. Here's how a typical portable A/C unit works: Plug it into a standard wall outlet. Once turned on, it'll remove warm air and moisture from the room air.
The captured warm air is then exhausted through a nearby window via a large-diameter vent hose. Additional moisture that's removed from the air is condensed into water and disposed of in a few different ways, depending on the model of the air conditioner. Some units have an internal reservoir that collects the condensation, which needs manual removal from time to time. Other models are equipped a gravity drain and condensate pump, which uses an attached hose to pump the water out a window or into a drain. Lastly there are self-evaporative units that automatically evaporate moisture from the warm air as it's exhausted out the vent hose. This style air conditioner is most effective in dry, hot climates, as opposed to regions with extremely high humidity.
Here, we've gathered together nine portable air conditioners in a wide variety of sizes and styles.
Best Overall
Elite ARC-122DS
Whynter
$600.00
$418.99 (30% off)
If you need an A/C fit for most rooms, Whynter's Elite ARC-122DS is what you're looking for. It's dual-hose design means it cools more efficiently, and its added dehumidifier zaps excess moisture as well. It's also small compared to most of the competition while not sacrificing on performance.
Best Value
Compact Cooler Portable A/C
Honeywell
walmart.com
$143.00
This portable AC unit from Honeywell packs a ton of features into a value-priced product. In addition to serving as an air-conditioner, it can also be used as a fan and humidifier. Other features include low energy, carbon dust filter, and a remote control. It's available in five sizes, from 176 to 525 CFM.
Best Design
Cool Connect Smart Portable A/C
This big Frigidaire just might be the smartest piece of tech in your home. You can remotely turn the unit on or off, change temperature, and control mode and fan speeds. This all adds up to saving energy. The A/C unit will remind you when the filter needs to be changed and about any other maintenance it needs. It's rated to cool a room up to 550 square feet.
Best Tech
Hi-Smart Alexa-Enabled Portable A/C
This unit from Hisense can be controlled with a remote, your smart phone, and now your voice. Working with both Alexa and Google Assistant, it runs quietly and the cross-flow fan design cools a room quickly. The included window ventilation kit installs easily in horizontal or vertical windows with openings ranging from 18- to 50-in. wide, and cools rooms up to 300 sq. ft.
Best Performance
ARC-14S Portable A/C
Whynter
walmart.com
$498.01
This 3-in-1 portable A/C operates as a air-conditioner, fan, and dehumidifier. Its dual hose exhausts and drains all condensate, which allows the unit to perform at its peak. It rolls on casters and can be used in computer/server rooms, bedrooms, classrooms, and garages/workshops.
Best Mobility
Portable A/C
Black+Decker is more than just tools. They now make a lot of household products including portable air conditioners. This full-featured air conditioner is one of the lightest available, and rolls easily on casters with handles for transport.
Best Noise Control
HL09CESWK Portable A/C
A/C's are not the quietest machines ever built. While working to keep your place cool, it'll inevitably produce a bit of noise pollution. But this unit from Honeywell does an admirable job of keeping the decibel-level low while cooling down your place. It's not built for the biggest of rooms, perhaps best suited for offices or apartments, but it's worth a look if you can stand the steady whirr of your typical A/C unit.
Best Compact
EvaLIGHT Personal A/C
You don't always need a huge machine to keep you comfortable. If you need something that just adds a bit of cool to the room, office, or gaming space, this little guy from Evapolar is a good pick. Just set this up and expect a nice 3-foot-radius of cool. It won't replace a dedicated A/C, but it'll make any workspace much more comfortable in the dead heat of summer.
Best for Large Spaces
Jetstream 240
When you need serious cooling power for working on home improvement projects or in your garage, the Portacool Jetstream evaporative cooler is one of the largest portable coolers you'll find. It can cool garages and shop spaces up to 1,125 square feet, as well as provide a welcome breeze of 4,500 CFM to patios and decks. Connect your garden hose and fill up the 50 gallon tank, then fire up the pump and fan and you are ready to go. Bonus: It's made in the USA.