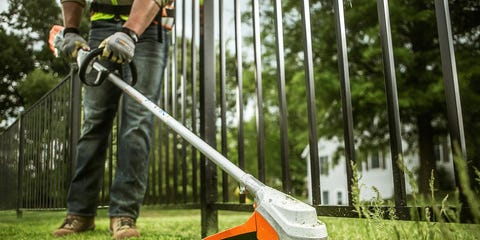 When the weather warms up and it's finally time to work outside again, be ready with new tools that will let you kill weeds with fire, keep your wheelbarrow organized, and water your lawn like a firefighter.
Swing it with one hand, and clear debris with the other. The ($30 for 24-inch model) has a slippery coating on its blade to keep sticky sap from slowing you down and holes in the blade to reduce weight and move the center of gravity closer to the handle for more power and control.
have the breathability of synthetics and the toughness of leather. And you can throw them in the wash when you're done.
Landscape pros have a secret weapon: surfactants that reduce water tension to help water penetrate soil. Distribute ($10 for a 3.6-pound jug) on your grass or in your garden, and you'll cut your water use by as much as 25 percent.
Your New Favorite Grass Seed
Thanks to the addition of shade-friendly Titan Rx seeds, the Seed Super Store's new grass blend (; $64 for a ten-pound bag) handles intense sun as well as it does intense shade, and provides increased resistance to a variety of lawn pests.
A Hose That Stands Up to Everything
($35) can handle scorching sun and hot water up to 165 degrees Fahrenheit, and still stays flexible even at 40 below. Get it in a bright color and you'll avoid one of the few things the MaxLite can't withstand: being run over by a lawn mower.
Weed Killer That Can't Miss
uses glyphosate to destroy a weed's ability to process nutrients. Anything you touch—and only what you touch—is toast.
The trusty wheelbarrow is an indispensable tool for hauling organic matter, fertilizer, plants, and more. The problem is that everything gets heaped together in the middle. Imagine you're moving some flowers and a bag of topsoil when the bag tips and crushes the plants. No good.
Therein lies the genius of the wheelbarrow organizer. For $60, fits over most wheelbarrows to provide a compartmentalized tray for tools and supplies. The lightweight caddy will hold up to 80 lbs. It even has individual partitions for keys, a cell phone, and a drink, and it can carry long-handled tools, a 5-gallon bucket, and seedlings. It'll cut down the number of trips you have to make to your garage or shed, which will make your life a little easier.
Burning leaves or branches out in the open or in a 55-gallon drum can be dangerous. Flying sparks pose a hazard, and burning leaves carried off by the wind can start unwanted fires. That's why we'd recommend a burn cage, and if you need a big one, this is it.
DR Power took its original BurnCage and made it 38 percent larger to hold more burnable waste in a safe environment. The, on sale for $460, offers a perforated stainless steel incinerator that contains burning embers and maximizes airflow for a hotter fire—burn temperatures reach as high as 1600 degrees F. The stainless steel won't rust or corrode, so it won't be an eyesore like that rusted-out drum or the burn spot you got by starting fires on the ground. The BurnCage XL also folds up, making it easy to move and store.
Gardener's Supply Company makes a handy line of plant covers, made with polyethylene fabric and a mesh top to create a miniature greenhouse that protects plants against cold temps and winds. The company expanded the group this year with a.
The company says the pop up, which is 16-in. tall with a 16-in. diameter and sells for $13, enables plants to grow 25 percent faster. Warm air can escape through the mesh to prevent overheating. The cover pops open when you release the toggles. To use it, simply place it over the plant and anchor it to the ground (anchors are not included). The mesh top unzips when you need ventilation or direct sunlight. At the end of the season, the cover lies flat for convenient storage.
Smart Irrigation Controller
Smart home technology is not limited to indoor appliances and devices. Blossom offers a connected that can access local, real-time weather data and use that information to optimize watering for your lawn. The personalized plan is based on your location, weather patterns, and vegetation.
Why spend your hard-earned dollars on such a device? According to Blossom, homeowners waste up to half of their irrigation water. The smart control system eliminates wasted water for an average annual savings of $300 on water bills, so says the company. That savings offsets the $200 to purchase the controller. Blossom's device works with your existing irrigation system and replaces your current controller. You can also use an app to control the irrigation system via a smartphone or tablet.
Lightweight Battery-Powered Weed Trimmer
Stihl's weed trimmer uses a 36-volt lithium-ion battery to keep the weight down while delivering long run times. The tool weighs just 11.2 lbs., so it's easy to maneuver, and has a larger-than-normal 15-inch cutting width to complete jobs faster.
The battery, which can be used in other Stihl tools, runs quieter than a gas motor without the maintenance or exhaust. Users can still control the throttle speed, giving them the flexibility to throttle down when trimming around delicate plants. The Stihl comes with a hefty $350 price tag, though, so this professional-grade trimmer is for DIYers with large yards they've got to keep under control.
Ames recently introduced a leaf rake with two rows of teeth, or tines, stacked in an offset alternating fashion. The company says this design keeps the teeth from clogging and lets you rake up to 45 percent faster than with a traditional rake.
The, $20, also has a comfort grip handle, which is nice when you have a lot of leaves or grass to clean up. A version of the rake that includes a small, detachable hand rake for tight spaces is available for $25.
There are myriad hand sprayers on the market for washing your truck, watering plants, and cleaning the grass off your mower deck, but none are as cool as the. It looks and works like an actual fireman's hose.
Granted, the $80 price tag makes it about four times more expensive than the cheap sprayers you can buy at home centers. But besides letting you play fireman, this tool has a higher build with an aluminum body and rubber grip.
Maybe your old gardening tools are breaking down. Maybe you're tired of the inevitable blisters. Well, this year look into the comfortable, reliable tools in Corona's. The trowel, weeder, cultivator, scoop, hoe/cultivator, and transplanter cost $10 each, and they offer comfortable no-slip handles on stainless steel bodies. The handles have a gel layer that's molded over a firm, ergonomic grip.
These are smartly designed tools, too. The weeder has a forked-tipped blade for digging into the ground, and the trowel has gradated depth markings along the head.