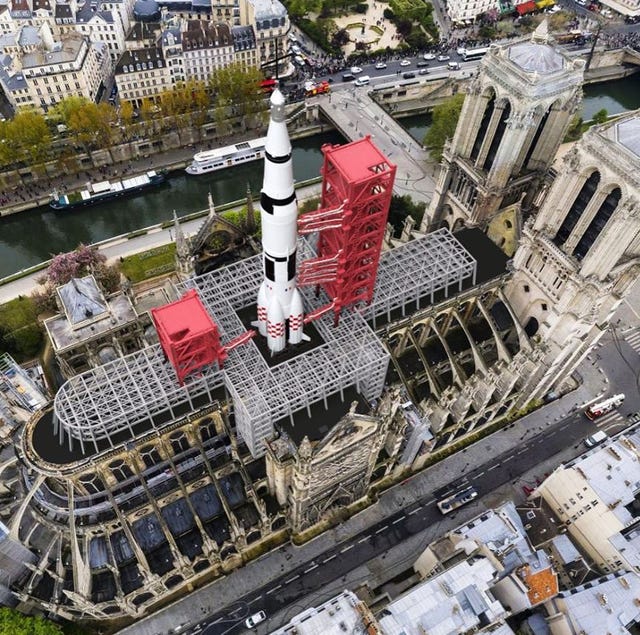 Sebastian Errazuriz/Instagram
Last month, the historic Notre-Dame Cathedral caught fire. For 850 years, the Gothic cathedral stood proud over Paris through events like the French Revolution, Napoleon Bonaparte's coronation, and the Liberation of Paris, but on April 15, a massive blaze—likely caused by ongoing renovation work—engulfed the church. Nine hours later, after 500 firefighters extinguished the flames, Notre Dame's iconic 300-foot spire had toppled, along with much of the landmark's roof.
Right after the world watched Notre-Dame burn, French President Emmanuel Macron didn't just pledge to restore the spire and roof—he promised to . (Not coincidentally, Paris is hosting the Olympics in 2024.) Accordingly, Prime Minister Édouard Philippe to international architects to make their best Instagram pitch for redesigning Notre Dame's roofline.
Despite dissent from critics blasting the potentially rushed restoration, a slew of wild proposals have already started to roll in. Here's what you (probably) won't see on the top of Notre-Dame anytime soon.
, a firm from Sweden, suggests swapping out the fallen spire for something everyone can enjoy: a gigantic rooftop pool.
"Our addition is a complementary spatial experience to the building that will match the awe of the great interior," the studio wrote on Instagram. "A space for thinking and self-reflection." Yes, that. And also for doing backflips.
The architects propose surrounding their pool with the 12 statues of the apostles, which survived the fire because they were being stored during the restoration. After all, every pool needs lifeguards on duty.
is Vincent Callebaut Architectures' bid for bringing the cathedral into the 21st century. The French firm's design calls for a glass-, oak-, and carbon fiber-based roof that would convert solar energy into electricity that would power the cathedral. Then there's the urban farm on the roof, which would produce up to 21 tons of fruits and vegetables a year.
"To that end," the firm says, "a farmers' market would be held every week on the forecourt of Notre-Dame."
For Quasimodo, obviously. Who Cares?!, a firm "well known for its nonconformist approach, its love for detail, and its creative design methods," , imagines a swanky rooftop spot for the Hunchback himself. The bachelor pad includes an 8,000 square-foot loft with two patios, a rooftop garden, a spa, sauna, and a helipad—because how else is he supposed to leave?
Hey, it's hard to find decent street parking in Paris. Irish architect Rob Cross , depicting what the new roof would like "if North Americans are put in charge of the Notre-Dame reconstruction." (Point taken.) It's obviously absurd . . . but also pretty practical?
"Some say that we should rebuild the spire as it was originally," wrote the French designer . "Others say that we should design a new one." Lehanneur's solution? Commemorate the fire with a 300-foot, carbon fiber-based, gold leaf-covered flame protruding from the cathedral.
Though Lehanneur originally intended for his mock-up to, well, mock the folly of the contest, he he's serious about his submission. "The flame is actually a very strong symbol in the bible," said Lehanneur. "It's powerful."
Of course, nothing tops Sebastian Errazuriz's idea to trump other designers' plans and thwart their proposals in the first place. How about a rocket launchpad on top of the cathedral?
In an open letter posted to Instagram, Errazuriz said his pad was designed to "ridicule every remaining, rapacious architectural firm still circling the carcass of Notre Dame with an 'idea' for a new roof proposal."
His pitch isn't serious, he said, "but instead a flippant artwork painstakingly and lovingly designed to exhaust the audience's patience." Errazuriz continued, "Extinguishing any remaining curiosity to review yet another starchitect's superfluos [sp.] proposal for a new glass eco-roof." Shots fired.
Whatever ends up happening to Notre-Dame, 21st-century tech will likely be used to save it.