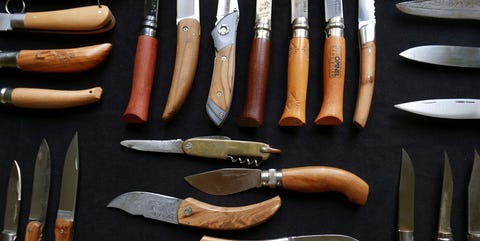 Getty Images
Color Day Production
There are plenty of good reasons to carry a pocket knife with you everywhere (except the airport), and there also plenty of quality knives to choose from. If you're looking for an everyday carry, we have some suggestions for you to consider. They run the gamut from the super-cheap to the somewhat pricey (but worth the investment).
EDITOR'S CHOICE: Case Amber Bone Mini Copperlock Knife
Slim and polished, with exceptional workmanship. The hinge is smooth, the hilt is comfortable, and the blade takes a shaving-sharp edge.
Schrade
homedepot.com
$20.84
A fine knife, but the hinge needed substantial lubrication. And the locking liner was particularly difficult to push to the side. It sharpens to a reasonable edge, and the lanyard hole could be useful.
Boker Boker Plus Lock Back Knife
This simple lock-back knife is made in China, but its workmanship is good. The blade is made of 440C stainless steel, so it takes a good edge.
$21
The Brawler features a modified tanto blade which is a shape often found in tactical and rescue knives. The tip is strong enough to punch through tough materials and then tear. The top of the blade is narrower (called a swedge), which adds to it's piercing power. You won't find a better and more feature rich utility knife.
$9
The Ripstop I weighs in at 2 ounces, which makes it virtually invisible in your pocket. But don't let the small size fool you, as it's stainless steel construction is durable enough to withstand a ton of abuse. It's single hand opening is cinch to use and it's available with a as well.
Spyderco Para 3 G-10 PlainEdge Folding Knife
$120
The Spyderco Para 3 features digital camouflage and is inspired by the larger Para 2, but in a more compact package. The textured G-10 camouflage scales are patterned after the U.S. Army's ARPAT camouflage, giving it an unmatched tactical look. The ambidextrous knife is perfect for one hand opening and quick access.
Buck Knives Solo Folding Pocket Knife
$17
This folding pocket knife has everyman functionality. At 3 inches, it's small enough to slide into skinny jean pockets, rugged enough for an outdoorsman, and the wood grain lends an air of sophistication that won't brand you a survivalist when you need to use it at a dinner party. The 2 3/16-inch modified clip blade is made from 420J2 steel and is easily sharpened for a lifetime of use.
$195
This gorgeous wood-handled hunting knife from Benchmade is built as an adventure companion for your woodland travels. Traditional wildlife lovers will enjoy its classic style and appreciate the modern CPM-S30V stainless steel (58-60HRC) blade.
$23
The Kershaw Cryo opens with a flick of your finger and locks in place. It only weighs 4 ounces and the blade is less than 3 inches long, an ideal size for your pocket. At 3 inches, it's also large enough that you can really put some leverage into it when cutting. The matte gray color doesn't attract attention, and best of all it's also pretty cheap.
Spyderco Tenacious Folding Knife
$45
Spyderco is known for its para-military knives and the Tenacious lives up to the company's reputation of no-nonsense gear. It sports a black laminate handle with steel liners tucked inside for added strength and rigidity. The 8Cr13MoV stainless steel blade has a non-reflective coating and ground flat from spine to edge for non-stop cutting.
$43
Auto knives are an acquired taste, but it's hard not to like the new Gerber Covert auto knife. They are spring-assist operated for instant side opening, and the 7Cr17MoV titanium-coated blade, measures 3.7-inches and is backed by a limited lifetime warranty.
$10
Seniorhelpline editor Eric Limer is enamored with his no-frills Opinel No. 8 pocket knife. In his words the knife "stands unflinchingly in the face of modern faux-tactical fare. A modest five-part construction with what you need and nothing else: a carbon steel blade, a wooden handle, a metal collar and pin to hold the two together, and a metal locking ring to hold the blade open for use."
$16
The CRKT Squid is an ideal compact everyday carry knife. It's a wide blade made of 8Cr13MoV steel, and its drop point style provides tip strength and balance, which makes this small knife feel bigger than it is. The 4.49-inch knife won't draw attention in a front or back pocket, and at $17 you can buy more than one for different uses.
$60
Fans of tanto shaped blades will love the SOG Aegis tactical knife. Its partially serrated blade is great for cutting through fabrics, belts, and leather while maintaining a low profile. The SOG assist opening requires little effort to spring into action.
$40
The Leatherman Crater is almost a multi-tool, but it is first and foremost a pocket knife. The 420HC combo blade features a built-in carabiner bottle opener, phillips screwdriver, and 1/4-inch flat screwdriver. In the great Leatherman tradition, the company has added a few extra goodies to its USA-made knife.
$39

The handy built-in flashlight adds some bulk, which gives you a more comfortable grip. This was the best knife for cutting tough plastic tubing. The base of the blade is serrated, but better to avoid that part. It's a little too coarse, requiring a lot of effort to use.
$72

Extremely sharp and sturdy, with much more heft than the other options. The Homefront is designed to be field-stripped (disassembled) and cleaned without tools. Nice if you're gutting a fish.
$29

SOG's knife is surprisingly light, considering how tough it looks and feels. It's a good, sharp blade with fast, spring-assisted flick-open capability. The textured sides make it easier to grip, especially in wet conditions.
Предлагаем
купить цветные линзы
по вашему желанию, недорого.