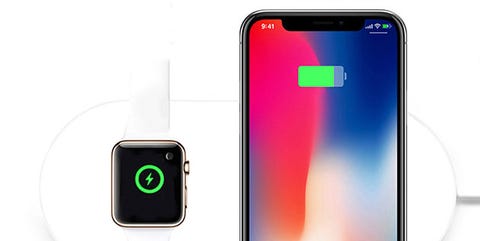 On September 12th, Apple revealed a series of new gadgets and updates that will doubtlessly send tech enthusiasts scrambling for their wallets. That means that it's time to stock up on these best-selling Apple accessories, each of which is available at a significant discount for a limited time.
1
iPM 2-in-1 Wireless Charging Pad
This sleek and stylish charging pad is portable enough to take with you on the go but wide enough to charge both an iPhone and Apple Watch simultaneously. It also powers up your devices 20% faster than other chargers and offers surge protection.
2
Atech USB-C Magnetic Breakaway Charging Cable
When Apple first introduced its magnetic power adapters, clumsy people across the globe rejoiced. No longer did we have to worry about our laptops crashing to the ground every time we tripped over a cable. This cable applies that same magnetic technology to every USB-C port on your device and even charges your devices faster than standard USB cables.
3
SwissTek Wireless Charging Mouse Pad
Mousepads don't tend to be very exciting, but this pad is here to change that. Ideal for gamers or desktop workers, this pad lets you charge your Qi-enabled device while you work or play. It even offers surge and short-circuit protection for added peace of mind.
4
Atech Micro Bluetooth Receiver
Wireless headphones are all the rage, but it can be difficult to say goodbye to your favorite pair of wired headphones. This receiver allows you to transform any pair of headphones from wired to wireless, and it's portable enough to ensure that you won't have to put up with any added bulk.
5
PowerTime Apple Watch Charging Dock
This incredibly streamlined charging dock lets you both charge your Apple Watch without a cable and charge up to three separate USB-compatible devices at once—all in a compact and portable environment that blends in with any decor. It also offers smart charging technology for faster and more efficient charges.
There's no such thing as having too many USB ports on a device. This 6-port USB hub ensures that you'll never be without a coveted USB connection, and even features an HDMI and SD card reader for added functionality.
7
iKlips II Lightning iOS Flash Drive
Cloud storage services are great, but sometimes you need a physical flash drive to get the job done quickly. These lightning iOS flash drives go above and beyond the call of duty by supporting the ex-FAT file format, which allows you to transfer files of any size from your iPhone or iPad to your computer. They also let you transfer 4K and 1080p videos at top speeds.
8
Nomad Ultra Rugged Battery Lightning Cable
Charging cables aren't generally known for their durability, but this ultra-rugged battery cable is here to change the game. It comes with its very own battery for when you need power in a pinch, and features reinforced RF shielding that promotes super-fast data transfers.
9
Ztylus Revolver M Series iPhone Lens Kit
Your smartphone lens is already impressive, but this lens kit takes things to an entirely new level when it comes to power and focus. It offers six unique lenses all in a single compartment that's no larger than an Oreo, and you'll be able to change and align each lens in seconds without having to use a lens cap.
10
Adjustable Laptop Docking Stand
Even laptops can take up too much room on a desk, especially when you're using an external monitor. This sleek stand lets you open up more space on your desk while eliminating needless clutter, and still allows full access to all of your computer's ports.