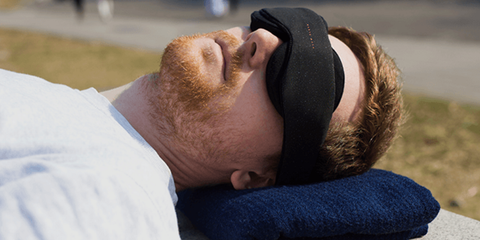 It's been proven time and time again that getting a good night's sleep is one of the most important things you can do when it comes to living a happier, healthier, and more productive life. And although we spend roughly a third of our lives in bed, surprisingly few of us are actually getting the kind of quality sleep that we need and deserve.
These products will help you fall and stay asleep every night, so you can wake up feeling refreshed and ready to tackle the day ahead.
1
Sound+Sleep SE Therapy System
Falling asleep isn't always easy, and when counting sheep no longer works, it's time to look to more modern remedies. This compact sleep system is expertly designed to lull you to sleep in a matter of minutes, by offering 64 immersive, non-repeating sound environments to choose from—including ocean waves, rain, or a waterfall. An adaptive sound feature automatically adjusts the volume to match your environment, and you also have the option of listening to your own music through the headphone jack.
Everyone knows at least one person who has to sleep with a pillow between their knees, but this is not what the average pillow was built for. This bamboo knee pillow, on the other hand, was built specifically for this very purpose. Crafted from memory foam and bamboo fibers that have been blended into an ergonomic design, this pillow promotes blood circulation and absorbs the pressure you normally place on your hips and joints.
Snoring is one of the most common enemies of a good night's sleep. These anti-snoring jaw straps offer an incredibly simple and comfortable solution to you or your partner's snoring problem, by uniquely positioning your head in a way that makes it impossible to snore. They also help prevent sleep apnea, bruxism, and TMJ pain.
4
Yaasa Studios Infinity Blanket
This is no ordinary blanket. Crafted using FDA Determined Celliant technology, this blanket actively increases blood flow, energy, strength, and endurance by recycling your body's natural heat energy. This can lead to a variety of health benefits, including better rest, injury recovery, and increased blood flow. It's also made entirely from eco-friendly materials, so you can rest easy knowing you're doing your part for the planet.
5
Manta Sleep Mask & Blackout Stickers
If you need complete darkness to get a good night's rest, look no further than this Manta sleep mask. It creates an artificial environment of pure darkness, which allows for REM sleep. It's also supremely comfortable and comes with blackout stickers that can be used to eliminate that obnoxious glare that emanates from your electronic devices.