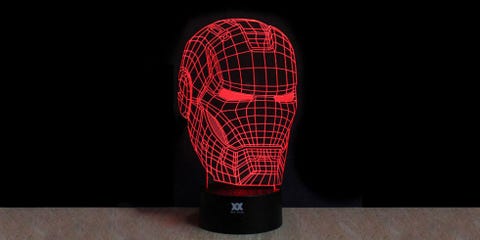 You've got the comics, movies, and posters on your wall. But why keep your superhero pals stuck in 2D?
are designed with LED technology to create stunning 3D images of your favorite characters from the Marvel and DC canons. Each lamp features a color toggle, so you can adjust your hero's hue according to your mood or decor. And because the lamp uses LED lights, you'll never have to change a bulb. It won't be easy, but we invite you to pick your favorite from this crime-fighting lineup (or buy them all and create your own LED-powered superhero dream team).
Its fitting that the metallic visage of Iron Man featured on this lamp looks like something that JARVIS would display in Tony Stark's helmet. This genius billionaire playboy philanthropist is only $50.
We always thought the eternally angry, murderous vigilante known as the Punisher could use a little neon in his color palette. Let Frank Castle light up your castle for a special limited-time-only price.
Apparently, the original design for this lamp featured an unmasked Deadpool, but it looked like a glowing avocado merged with a more disgusting, glowing avocado. So they just went with his logo instead.
You can turn Batman's head purple and green? The Joker is going to have quite a laugh when he gets a load of this lamp.
With great LED power comes great responsibility. Put the webhead's head next to your bed.
All these lamps are available at 49 percent off .