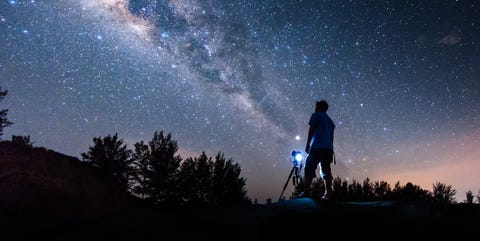 Christianto Soning / EyeEm
Getty Images
Being a lover of space can be a small tragedy. Its vast expanse hangs above us at all times, yet it remains perpetually and (unless you're scientifically inclined or super rich) forever out of reach. These 12 gifts help make the celestial a bit more terrestrial.
1
What Is Real?: The Unfinished Quest for the Meaning of Quantum Physics
Confused about quantum mechanics? You're not the only one. But astrophysicist and science writer Adam Becker breaks down the multiple twists, turns, and unusual stories in the history of the theory, and unveils a story of the competing schools of thought within the weirdest parts of weird physics.
2
AWB OneSky Reflector Telescope
There are plenty of choices when it comes to the best telescope for a beginner, and while a 70 or 90 mm from Celestron or Orion work just fine for a cheap newbie telescope, the Astronomers Without Borders OneSky telescope has a larger aperture—giving it more light collecting power—at a budget-conscious price. We even included it in our list of best telescopes. It's the sort of telescope you'd want to upgrade to as a next step, so why not just skip over that first one.
Urban Outfitters has , but our favorite is this hoodie. Sporting NASA's classic worm logo, along with some patriotic branding along the sleeve, this hoodie is 100 percent cotton and 100 percent space-ready. If the hoodie isn't quite right, you can also get the same design .
4
Light of the Stars: Alien Worlds and the Fate of the Earth
The question "are we alone in the universe" is far older than you'd think, as this book outlines. The book draws from a wide range of disciplines to break down a holistic view of life on Earth—and how that might apply from our nearest planets to the farthest reaches of the universe.
5
Vans x Space Voyager Shoes
If you're going to get some cool space shirts, might as well get the kicks to match. The new Space Voyager series include vintage inspired looks, and a few different styles for however you want to outfit your feet. The line also includes jackets and shirts, though sadly no space pants.
6
Observer's Handbook 2019
What's there to see in the night sky this year? The Royal Astronomical Society of Canada has its 2019 handbook ready to give you a preview of what's coming every night in the coming year. This is the 111th year for the handbook, which is a go-to for amateur astronomers. If you just got someone a new telescope, this is a perfect companion.
The first-ever globe of Jupiter's most intriguing moon makes a perfect desktop accessory. Using U.S. Geological Survey maps from Galileo and Voyager data, it's a way to get a good view of the most likely place to find life beyond Earth. NASA will be visiting Europa in the next decade, so here's a good way to brush up before the Europa Clipper launches in (for right now at least) 2022.
8
NASA Gemini Rocket T-Shirt
After a brief hiatus, the Palmer Cash online store is back with comfortable and stylish NASA T-shirts, incorporating vintage patches, original designs, and clever pastiches. They come in a variety of sizes, and they even have some pretty cool sweatshirts too.
9
See It with a Small Telescope
So you didn't splurge for a top-of-the-line telescope, forking over hundreds of dollars. So what? There's still plenty you can see with a small telescope, and this book is the perfect guide to what's out there. For instance, while distant galaxies may not be in your cards, you can still see the moons of Jupiter with even a smaller scope. It's a good way to get a crash course in a new amateur astronomy hobby.
10
Perfect Alignment Solar System Necklace
If you know someone who is into jewelry, Eclectic Eccentricity is here with a variety of styles for a special someone, like this solar system necklace. Along with their jewelry line, they include a variety of homewares like mugs, posters, and more.
11
Eyeskey Universal Mobile Device Holder
Get yourself or someone you love a telescope for Christmas? Why not get them a way to take a picture of what they see! A smartphone can be a smart, capable astrophotography imager in the right hands, and this adapter helps hold it in place to get a good shot without fumbling around.
12
Catching Stardust: Comets, Asteroids and the Birth of the Solar System (Bloomsbury Sigma)
Natalie Starkey studies some of the smallest bodies of the universe, the really basic building blocks leftover from the formation of the solar system—comets, meteors, and asteroids. This book lays out the important role in shaping the solar system as we know it today. It's especially prescient as NASA and other agencies turn their eyes increasingly toward these small pieces of our historic puzzle. It also lays out why any of our future exploration goals may require us to bring these ancient icy and rocky bodies into the fold.
Узнайте про важный интернет-сайт , он описывает в статьях про citroen c3 aircross
www.citroen.niko.ua
Узнайте про важный интернет-сайт , он рассказывает про
заказать цветные линзы
.
Предлагаем вам со скидкой
купить дом киевская обл
в любом городе.