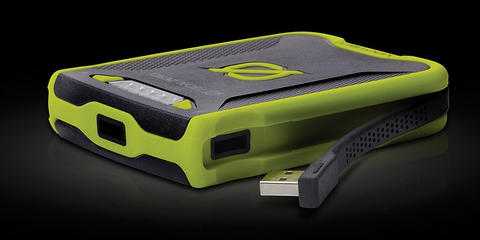 We're more dependent on our portable devices than ever, but we always rely on the batteries that power them. To avoid running completely dry, it's best to carry a portable battery pack.
But picking the wrong battery pack can still leave you stranded. These are 12 options to consider that fit a range of different demands, from ultra-portable units that'll provide a quick top-up for your phone to more rugged and outdoor-friendly power banks that will keep your devices going for days.
1
Mophie Powerstation Plus XL
Mophie is a longstanding favorite when it comes to portable battery packs and, while they tend to demand a bit of a premium, you get your money's worth. That's certainly the case with the company's Powerstation Plus XL, which PC World to be the most efficient battery pack they've tested. It also packs a convenient built-in charging cable with both Lighting and micro USB adapters, along with a secondary USB port for charging other devices.
2
Anker PowerCore Jump Starter mini
A portable battery pack is a great item to keep in your car at all times, but an even better option is a battery pack that can also double as a jump starter for your car. Anker's PowerCore Jump Starter mini won't take up much room in your glove box, and will jump start any vehicle with an engine up to 2.8L. Two fast-charging USB ports will also keep your mobile devices charged while you're on the road, and a built-in flashlight and rugged enclosure make it ideal for emergency situations.
Newer laptops with USB-C power may be more battery pack-friendly when it comes to charging on the go, but you're not out of luck if your laptop still needs a regular AC outlet to stay powered. Jackery's PowerBar is a favorite of , and should provide a full or close-to-full charge for most laptops. That AC outlet also doesn't necessarily have to be used for a laptop, of course, and a USB-C port and two standard USB ports (one with Quick Charge 3.0 support) will let you keep your other devices charged as well.
Anker's portable battery packs are among the most widely recommended, and come in sizes and capacities to suit just about any need. This one's a particularly popular choice, providing enough juice to fully recharge an iPhone 6s seven times. It's also notable for having a USB-C port in addition to a pair of standard ports, which could fully charge a 12-inch Macbook with a bit of power to spare.
5
ZeroLemon ToughJuice 30000mAh
It won't fit in most pockets, but ZeroLemon's ToughJuice charger is the best if you need ruggedness and maximum power. Macworld gave this one , but says that while it has lots of power—enough to recharge an iPhone 7 up to eleven times —it's not the fastest at recharging devices (or recharging itself). You can charge plenty of devices at once, though, with it packing no less than five charging ports, including USB-C.
If you need to recharge your devices in more outdoorsy conditions, Goal Zero's Venture 30 is worth the extra cost. It's rugged, fully weatherproof, and provides enough power to replenish most phones two or three times over. If that's not enough, you you can also pair it with one of Goal Zero's solar panels for an extended stay off the grid.
Another of Anker's most popular chargers, the lipstick-shaped PowerCore+ mini has maintained a four-and-a-half star rating on Amazon after nearly 25,000 customer reviews. Available in your choice of five colors, the charger will provide enough power for one full recharge of most phones, although it doesn't have integrated connectors (a micro-USB cable is included, iPhone users will need to use their own Lightning cable).
8
Belkin Portable Charge + Apple Watch
Charging devices no longer means just our smartphones, and if you're an Apple acolyte, you likely have a Apple Watch that needs daily attention. Luckily Belkin dreamed up this portable charger, designed for an Apple Watch, but most importantly, not just an Apple Watch. This charger also lets juices up your phone or any other gadget like normal. It's not made for everyone, but it's a lifesaver if you find yourself with this particular Apple gear.
If you're looking for something that's not too big but not too underpowered, the packs a lot into a small package. It'll fully charge most smartphones at least twice before needing to be recharged itself, and includes built-in micro-USB and Lightning connectors so you don't have to worry about carrying any extra cables.
10
Mophie Charge Force Powerstation
The Charge Force is its most advanced Mophie back the company has ever made. This battery pack is much like Mophie's Powerstation lineup (, , ), but also includes Qi wireless charging, making it a good option for those fancy new iPhones. This makes the Charge Force a 12,000mAh battery with set-it-and-forget-it convenience.
Of course, you can still charge through a cord. But many Android phones and (supposedly) , so the Charge Force would be a more forward-thinking option.
It won't keep your phone powered for an extended trip, but you won't find a much more portable option than the 5mm-thick TravelCard Charger. It has both Lightning and micro-USB cables built-in, and it to be better made than most other credit card-sized battery packs. You'll pay a bit of a premium for the convenience, though.
Sometimes, you need to charge something a little bigger than your smartphone. Mophie built this battery to charge bigger gadgets, like new Macbooks and the Nintendo Switch, with built-in 30W fast charging that will add at least 16 hours of battery life to your laptop.
If you want to try another, cheaper option, you can go with the Anker PowerCore+ 26,8000, which comes with the same charging powers for less . But Mophie certainly scores extra points by including fabric materials.
-------------
Download to keep track of your orders, compare products, and keep tabs on sales.